Meet Lucy Bear, Naturally Raised Since Birth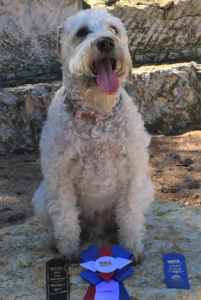 Mona Belcher is the Mom of Lucy Bear, a female Wheaten Terrier.  The pair became customers of Bark Avenue Market & Bakery in 2017. Lucy is naturally raised since birth, roaming the beautiful terrain and forests of Bragg Creek, Alberta, Canada. Mona, her husband Terry, and Lucy moved to the Arlington area in 2017  when her husband accepted a job as a civil engineer, thanks to the population explosion in the Dallas area in recent years.
Lucy is, and always has been, a super healthy and energetic girl who's never had a sick day in her life. She has no allergies, no injuries, and doesn't mind staying away from the vet's office – except every 12 – 18 months for bloodwork to ensure everything is working as it should. Otherwise, Lucy is on a completely natural diet made up of natural foods, treats, and herbal supplements.
When moving to the DFW area from Canada, Mona's biggest concern was continuing sweet Lucy on her ancestral raw diet once they arrived and settled in.   She worried there wouldn't be a retailer nearby who shared a similar mindset to raising a pet as an authentic natural thinker.
After many hours of researching, Mona found and called Bark Avenue before they even left Canada. Tammy's knowledge and professionalism calmed Mona's nerves almost instantly, gratefully realizing she had found a store and an expert who shared her desire to stick to a natural regiment diet for Lucy. Soon after arriving, Mona and Lucy Bear visited Bark Avenue Market & Bakery, and they've been regular customers ever since.
Lucy Bear's Bio
Customer:  Mona Belcher, Marketing Consultant
Location: Arlington, Texas
Pet:  Canine Lucy Bear, Soft-Coated Wheaten Terrier
Age:  8.5 years
Gender: Female
Lifestyle:  Lucy is naturally raised from birth
Favorite pastime:  Lucy is a high-energy breed who enjoys squirrel chasing, swimming in local lakes and other swimming holes, and is a member of the North Texas Barn Hunt
Lucy's menu:   Raw meat, Answers & Small Batch brands keep her fast and sharp, chicken feet, chicken and turkey necks, sardines, some veggies, berries and nuts, fish oil and
Treats:    Cheese (of course), Frozen raw sardines, goat's milk, beef broth, goat's cheese
Mona & Lucy's Tasty Bits Recipe – Turkey Balls!
1/2 – 1 lb ground turkey
1 egg
Bark Avenue Market & Bakery's Frozen Primal Greens Elixir
Add ground turkey to a bowl and use your hands to mix in egg (like making a meatloaf).  Add in Primal Greens Elixir, and mix with hands until all evenly mixed in with turkey.  It's easier if you get a set of non-powdered sanitary gloves so you don't get it all over your hands.  Roll into little balls and bake at 200 degrees until gently cooked.  Once cooled, you can freeze them.  Be sure and let it thaw for 20 minutes before feeding to your pup.
---
Want to brag about your pup's or cat's natural lifestyle and the benefits he or she has enjoyed?  Submit your story and it may be featured in The Bark Newsletter and The Tammy Talks Blog!